Welcome to Anwarul Uloom College of Education
The Anwar-Ul-Uloom Educational Association has served the Nation with Quality Education since decades. Under its aegis are many institutions, imparting instructions in the field of education that is unmatched. A non-political, non-commercial, socially-oriented Association. For decades past it has been the only source of modern education for the Muslim community. With an overwhelming growth its activities have covered almost every level of education from Primary Level to Post Graduation.
The Anwarul-Uloom Educational Association is one of the oldest educational associations in Hyderabad. The idea behind forming the Association was conceived by the Late Moulvi Mohammed Abdur Razzak Saheb, the Late Moulvi Jawahir Khan Saheb and a few other public-spirited Hyderabadis in 1908 at the time when private effort in the field of education was rare and the Muslims of Hyderabad were not sufficiently aware to the value of education.
Anwar Ul Uloom College of Education, a Muslim minority institution, was established in the year 1988 with the mission of providing quality education to trainee teachers through the B.Ed and D.Ed. courses. Along with a sound theoretical base, the students are given a wide exposure to practical work. The B.Ed students are sent to various schools of the city for their teaching practice programme..The National Council for Teacher Education (NCTE) has accorded its recognition to the B.Ed and D.Ed courses. The B.Ed course is affiliated to Osmania University and the D.Ed course is affiliated by The Director of School Education.
VISION OF THE COLLEGE
We prepare and empower our students to be successful and continually strive for innovative and effective ways of lifelong learning to give positive impact on their students and community in return, transforming the life of next generation and their own through their endeavor.
Facilities at Anwarul Uloom College of Education
Library and Reading Room
Laboratories
Multipurpose Room
Sports Field
Parking Space
Multipurpose Hall
Spacious Classrooms
2015-17 B.Ed., (4319) - Admission is done on the basis of ED-CET and Counseling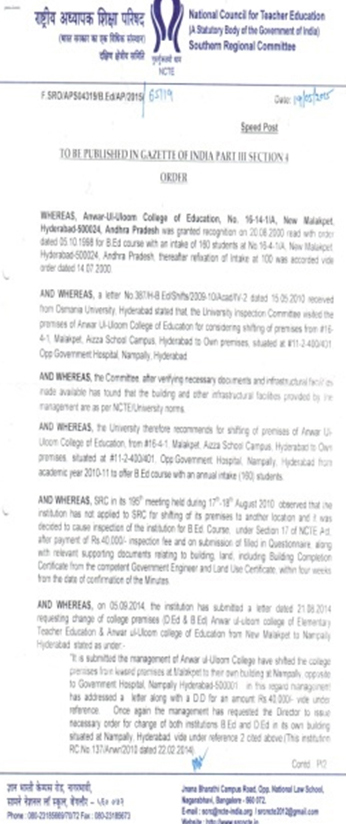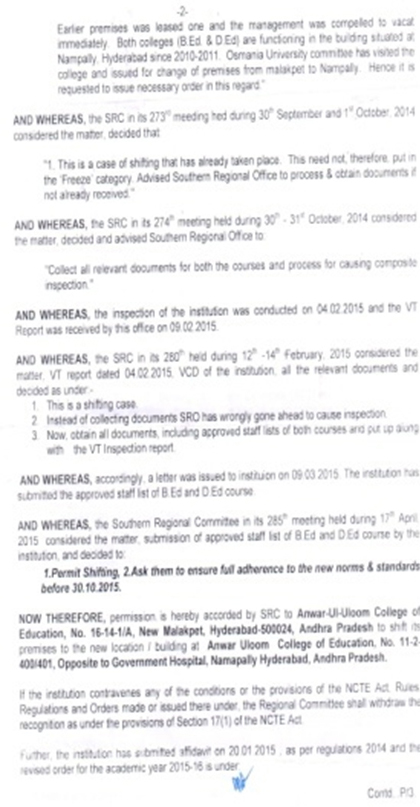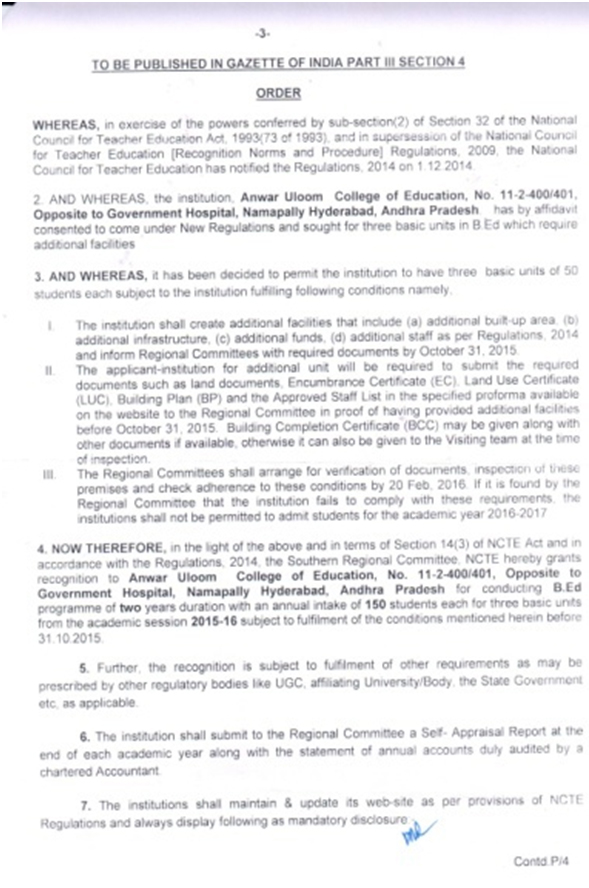 Osmania University Affiliation Order